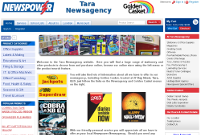 The latest of the Newspower branded websites to be completed is

www.taranews.com.au for Tara Newsagency

.





Among the Newsagency and Golden Casket products and services included on the website are: Stationery & Office Supplies; Magazines; Greeting Cards; Giftware; Pre-Paid Mobile Phones, Phone Cards & Recharge; Toys, Games & Puzzles; Fax, Photocopying & Laminating Services; Inkjet & Toner Cartridges; Bookstore; Artist Supplies; Heritage Bank Agency; Newspower Special Offers; Golden Casket Games; This Weeks Jackpots; Gold Lotto Superdraw; and Weekly Syndicates.



Included with the regular updates on the website is the complete calendar of

Newspower promotions, with the Newspower Big Stationery Sale currently being displayed.
Do you have a GNS OfficeSmart or YourLocalNewsagent website that you would like to better reflect your business? For further information visit www.new-web.com.au/gns.